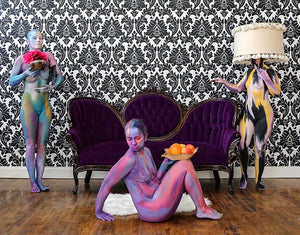 Trina Merry "That Time We Played House"
Regular price
$1,500.00
$0.00
Unit price
per
Trina Merry "That Time We Played House" 2019

Photography on Aluminum, Glossy finish
Dimensions: 20 x 30 in 
Limited Edition of 5
Signed and numbered on verso by artist, includes gallery label and certificate of authenticity
Artist Trina Merry is a leading body painter in a generation that emerged in the wake of the influence of Yves Klein, Yayoi Kusama, and Verushka. Merry studied with Robert Wilson and Marina Abramovic as a Watermill Center summer resident, creating five living bodypaint installations on site. There she absorbed their unique attention to space, silence in stillness and transported these applications in her work to the chaotic neon streets of New York and subsequently, the world. She has also studied with Alex and Allyson Grey on "Visionary Art and the Light Body". She has crafted her own visual and conceptual vocabulary that emerged through her focus on the points of juxtaposition between the organic human form and the hard lines of architecture. Merry has performed and exhibited at The Whitney Biennial, Getty Villa, San Jose Museum of Art (with Andy Goldsworthy), Attleboro Arts Museum, ESMoA, Museo De Bardini (Florence), Edward Hopper House, Red Dot Miami, Superfine! Art Fair, Satellite Art Show, WORKS San Jose & SOMArts alongside the Guerilla Girls.
Learn More about Trina Merry and her exhibitions with The Untitled Space on our website
---
Share this artwork
---