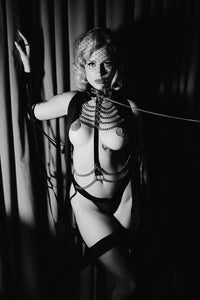 Nick Rhodes "Lottie Moss"
Regular price
$3,000.00
$0.00
Unit price
per
Nick Rhodes "Lottie Moss" 2022 
Photography, Archival pigment print on metallic paper, framed
Dimensions 18in x 12in 
Limited Edition of 10
Includes certificate of authenticity.
Nick Rhodes is best known as the founder and keyboardist of the legendary pop band Duran Duran. A former art student, Rhodes became enamored with the art world early in his career, making friends with pop art artist Andy Warhol and The Factory crowd and attending exhibitions worldwide. In 1984, he released his own book of abstract art photographs, titled "Interference." Many of the photos were displayed at an exhibition at the Hamilton Gallery in London, UK. Rhodes continues to showcase his photography in magazines and exhibitions and has been featured in The Untitled Magazine in numerous previous issues, including original photo shoots of Charli XCX for The Untitled Magazine's "Music" Issue (2013), The Bloom Twins for The Untitled Magazine's "Legendary" Issue (2014), Wendy Bevan Astronomia for The Untitled Magazine "INNOVATE" Issue (2021), and Lottie Moss for The Untitled Magazine's "REBEL" Issue (2022).
For more information on the exhibition visit our website. 
---
Share this artwork
---