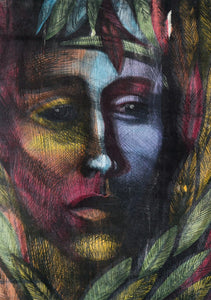 Katya Zvereva "Augusta"
Regular price
$1,875.00
$0.00
Unit price
per
Katya Zvereva "Augusta" 2018
Hand-colored monotype on layers of cotton and satin fabric, mounted on wood stretchers
Dimensions 38 × 27 in
Unique
Signed on Recto, Includes Certificate of Authenticity

Artist Katya Zvereva was born in Saint Petersburg, Russia in 1990. She received her Master's Degree of Architecture from the V. Surikov Moscow State Academy Art Institute in 2013, and her Masters of Fine Art from New York Academy of Art in 2016. A multidisciplinary artist, Zvereva's work crosses over into many mediums, from painting, printmaking, drawing, and sculpture, to explorations with object d'art and furniture. In printmaking, she has developed her own unique technique based on monotypes mixed with drawing, which she often prints on multiple layers of fabric or hand-made paper. She creates large-scale installations based on analog woodcuts, which are printed by hand on a multitude of surfaces.  Her bold floral paintings, painted on canvas as well as leather, evoke emotional metaphors of the subconscious. Her artwork has been exhibited in New York City, Los Angles, Moscow, and St. Petersburg and can be found in many private art collections in the United States, France, Germany, and Russia. She was featured in solo show, "FEMME FLEUR" at The Untitled Space in May 2019, and has exhibited in a number of the gallery's group shows. 
Learn more about her artwork and exhibitions on our website. 
---
Share this artwork
---