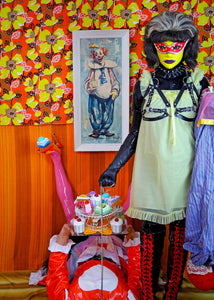 Kat Toronto aka Miss Meatface "THE SLEEPOVER"
Regular price
$750.00
$0.00
Unit price
per
Kat Toronto aka Miss Meatface "THE SLEEPOVER" 2022
Photography Printed on Aluminum with Archival Ink, Glossy Finish.

Dimensions: 11.5 X 16 inches 
Limited Edition of 10
This photograph is signed on verso and includes a certificate of authenticity
Kat Toronto, AKA "Miss Meatface" is a multidisciplinary artist hailing from the San Francisco Bay Area who works in performance-based photography. She uses her often unsettling and surreal images to explore cultural ideals of feminine beauty and the objectification of women in a feminist society by toying with the push and pull of dominance and submission, as well as the acts of revealing and concealing. Diagnosed with a rare form of cervical cancer in 2010 that eventually led to a full hysterectomy in 2013, Kat uses the name "Miss Meatface" as an artistic and spiritual catalyst to delve into a complex set of questions about where she now fits into society as a woman. Kat executes her work between London, England, and San Francisco, California.  
Learn More about Kat Toronto aka Miss Meatface and her exhibitions with The Untitled Space on our website. 
---
Share this artwork
---