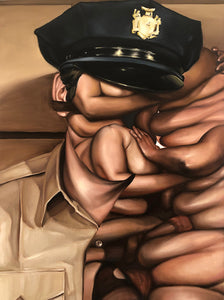 John Krausman Lark "Officer"
Regular price
$5,400.00
$0.00
Unit price
per
John Krausman Lark "Officer" 2020
Painting, Oil on Canvas
Dimensions 40 x 30 in
Unique
Signed on side, includes certificate of authenticity.
John Krausman Lark (born Lansing, Michigan, 1982) is a representational painter who creates oil on canvas paintings that depict interactions between figures and environments. In 2012 he received an MFA from New York Academy of Art. His interest in art dates back to his childhood years in Michigan, where he frequently visited the Detroit Institute of Art and the Cranbrook Art Museum and developed a connection with and enthusiasm for abstract expressionism, minimalism and pop art. Lark graduated with a BFA, Cum Laude, in 2005 from University of Michigan School of Art and Design where his concentration was in figure painting and printmaking. He later studied abroad in Florence, Italy where his appreciation for Renaissance and Baroque periods blossomed. After graduation, Lark moved to New York City and took a post-baccalaureate semester at Columbia University. He realized his primary interests lay in representational painting and began graduate studies at the New York Academy of Art where he developed the style for which he is known today. Lark has a wide breadth of influences including, Velazquez, Goya, Ribera, Hals, Whistler, Sargent, Matisse, Motherwell, Diebenkorn, Pettibon and Rauch. His work has been featured in a number of group shows as well as a solo show in 2017. Lark lives and works in the Lower East Side neighborhood of New York City. 
Learn more about John Lark's artwork and exhibitions on our website.
---
Share this artwork
---