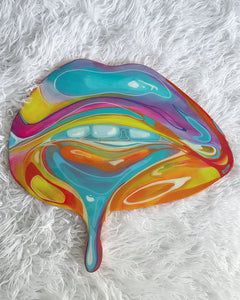 Isabel Sierra AKA The Love Whip "Mouthwatering"
Regular price
$2,000.00
$0.00
Unit price
per
Isabel Sierra AKA The Love Whip "Mouthwatering" 2022

Mixed Media Sculpture: Wood, Acrylic Paint, and Resin
Dimensions: 18 x 20 inches
Unique
Signed on verso, includes a certificate of authenticity.

Isabel Sierra aka The Love Whip is a mixed-media artist based out of New York City. Past work of The Love Whip has incorporated glass, bronze, clay, performance art, body wear, ink, paint, collage, and more. Her endless curiosity for creative pursuits has led to her current mixed media series. This series ultimately combines the many techniques she has cultivated over her years of artistic exploration. Using wood, acrylic paint, and resin, The Love Whip strives to bring her creations to life with her one-of-one hand-cut shapes. Layered with paint and resin, this impressionist conveys her connection to eroticism in hopes it helps destigmatize feminine sexuality and the pursuit of consensual pleasure.

The Love Whip explores sexuality and pleasure in its many forms with her mixed-media sculptures. Using art, She refutes the notion that sexuality should be taboo. The New York-based artist finds her inspiration from both personal and vicarious experiences. Using various mediums such as wood, paint, resin, and rope, she depicts moments of sexual empowerment and exploration. As art became a safe stepping stone for her own erotic explorations, she hopes it can provide such a platform for the viewer.
---
Share this artwork
---