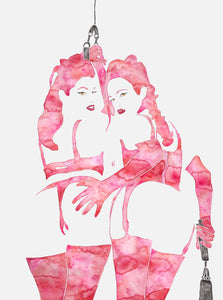 Helena Calmfors "You Can't Play With Us (but you can pay us)"
Regular price
$1,200.00
$0.00
Unit price
per
Helena Calmfors "You Can't Play With Us (but you can pay us)" 2021
Painting: Watercolor on Paper
Dimensions: Painting 30in x 22in
Signed on Verso, Includes a certificate of authenticity
Unique

Helena Calmfors is a queer artist, performer and BDSM professional based in Brooklyn. Originally from Sweden, she has worked and performed in New York since 2014. The act of creating intimate scenes and experiences is present in all aspects of her work, ranging from watercolor paintings and digital work to performance and photography. Helena's work is centered around taking control of the male gaze through the practice of femdom. She addresses issues around reclaiming ownership of body and identity through the hierarchical power play present in BDSM.
Helena's performances explore female domination through BDSM rituals. She uses instant photography as a means of representing the ephemerality of performance rituals and the intimacy of the Dominant/submissive relationship. By using fluid strokes of watercolor and ink in her paintings, she illuminates the stark contrast between the rigid structure of BDSM and the beauty of ultimate trust in the depicted scenes. Her work has been featured in a number of exhibitions including at Woman Made Gallery, Chicago; Arc Gallery San Fransisco; and at The House of Yes, Brooklyn, NY. She attended Stockholm University for Art History, and ESC Rennes & Umea University, as well as Shillington School of Graphic Design. 

---
Share this artwork
---