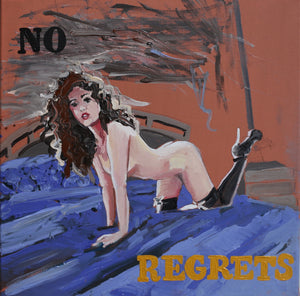 Annika Connor "No Regrets"
Regular price
$3,000.00
$0.00
Unit price
per
Annika Connor "No Regrets" 2019
Painting, Oil on Linen
Dimensions 12 x 12 in
Unique

Signed on Verso, includes certificate of authenticity.


Annika Connor is a modern-day Renaissance woman. Primarily known as a Contemporary Romantic painter, her work uses strong symbolism and passionate imagery to ignite the imagination. Connor received a BFA from The School of the Art Institute of Chicago. Since then she has worked professionally as a painter in New York, London, and Stockholm while participating in numerous national and international exhibitions. Annika is Swedish-American and currently resides in Brooklyn where she maintains an active studio. In addition to her work in the studio, Connor is also a SAGAFTRA actress. Her work was featured at The Untitled Space solo show "Flora/Fauna" in 2015, as well as the gallery's group shows "BODY BEAUTIFUL", "The Female Gaze on Love, Lust & Longing", "ONE YEAR OF RESISTANCE", "SECRET GARDEN", "SHE INSPIRES", "UPRISE / ANGRY WOMEN", "In The Raw: The 'F' Word: Feminism in Art", and "Human/Nature".
Learn more about her artwork and exhibitions on our website.

---
Share this artwork
---