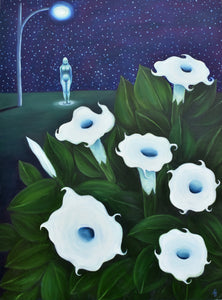 Annie Brito Hodgin "Mind's Eye II"
Regular price
$1,500.00
$0.00
Unit price
per
Annie Brito Hodgin "Mind's Eye II" 2022
Painting: Oil on Panel
Dimensions 24 x 18in
Unique
Signed on Verso, includes a certificate of authenticity.
Annie Brito Hodgin (b. 1983) is a largely self-taught artist who paints figuratively in oils. She was born in Poughkeepsie, NY, and raised in the south. She now lives just outside Nashville in Hendersonville, TN. She has artwork in collections both nationally and internationally. Hodgin's paintings are often suggestive and rich in illusion. With thin layers and varied mark-making, the colors are vivid and the imagery bold. Her current work is a meditative exploration of trauma, ambiguity, culpability, absurdity, repression, and control. Hodgin considers her figures avatars for exploring these realities, and the tensions they create. Her loose symbolism is drawn from literary and mythical references, memories, and the subconscious.
---
Share this artwork
---