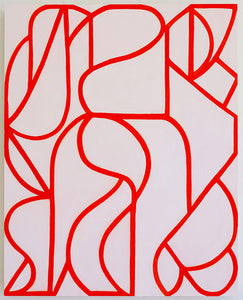 Andrea Ferrigno "Pop It"
Regular price
$1,800.00
$0.00
Unit price
per
Andrea Ferrigno "Pop It" 2020
Painting, Oil on Cradled Panel
Dimensions 20 x 16 in
Unique

Signed on Verso, includes certificate of authenticity.
Andrea Ferrigno received her MFA from the University of Iowa, and BFA from Kansas City Art Institute. She has exhibited her work nationally and internationally. Ferrigno has been an artist in residence at Virginia Center for the Creative Arts (VCCA), DRAWinternational in Caylus, France, and at The Vermont Studio Center. Her work has exhibited widely, including recent exhibitions at The Center for Contemporary Art in Bedminster New Jersey, Site: Brooklyn, The Painting Center in New York City, and ArtStart in Rhinelander, Wisconsin. Her work has been published in ArtMaze Magazine, New American Paintings, amongst others. Ferrigno currently lives and works in Galesburg, Illinois where she is an Associate Professor of Fine Art at Knox College. She has also held a Lectureship at The American University in Paris. Her work is held in various international private and public collections. 
ARTIST STATEMENT
"My work has stemmed from a desire to understand the scientific and mathematical systems used to describe the natural world's forms and workings. Systems such as geometry are the foundation of my visual language. In my practice, I create space for personal expression and investigation. Through my work, I aim to reconcile the geometric, analytic worldview, and my embodied experience. My process over the years has become largely intuitive, and my forms are discovered through making. I flirt with figuration and the body's relationship to architectural space and structures. I am interested in creating a looping experience between perceived interior space, volumetric form, and the painting's flatness. I want my work to have a sense of monumentality and intimacy. My use of color is informed by memory and emotion. I aim to create clear, solid images, yet open to what viewers bring to and discover within the work."
---
Share this artwork
---