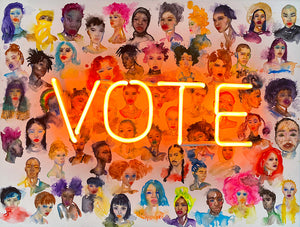 Fahren Feingold & Indira Cesarine "We The People"
Regular price
$12,000.00
$0.00
Unit price
per
Fahren Feingold & Indira Cesarine "We The People" 2020
Mixed Media Painting, Neon Glass Mounted to Watercolor on Paper on Wood Panel with an electrical transformer
Dimensions: 29.5 x 22.25 x 4in
Unique
Signed on Verso with Official Stamp, Includes Certificate of Authenticity
Watercolor artist Fahren Feingold imparts an ethereal quality to her unique works depicting the female form. Her watercolors featuring bold feminine figures reference imagery from early 20th century French photography, vintage American magazines from the 70s and 80s, and today's Internet girls. In 2016, her dreamy watercolors caught the eye of the legendary Nick Knight, who commissioned her to illustrate Paris Fashion Week for SHOW Studio. Since then, her work has been featured in numerous international exhibitions, as well as solo shows and group shows presented by The Untitled Space. Celebrated as "a trailblazing artist on a meteoric rise" by Vogue, her watercolors have steadily gained recognition from collectors and critics alike for their sensitive, dreamlike colors, graceful brush stroke, and rendition of the female form. Through her creative depictions, Feingold gives new voices to women of the past and present while exploring larger notions of female constructs in contemporary society. 
Indira Cesarine is a Mexican American multidisciplinary artist who works with photography, video, painting, printmaking, and sculpture. A graduate of Columbia University with a triple major in Art History, French, and Women's Studies, she additionally studied at Parson's School of Design, ICP, SVA, Art Students League, and The New York Academy of Art. Cesarine had her first solo show at the age of sixteen at Paul Mellon Arts Center. She began working as a photographer from the age of seventeen, shooting for top modeling agencies Elite, Ford, and IMG while she completed her degree. Upon graduation from university, she continued her career in London where she received photography commissions by Vogue, GQ, Harper's Bazaar, and many other international titles while still in her early twenties. Her work as an artist has been featured internationally at many art galleries, museums, and art fairs, including The Metropolitan Museum of Art, Hudson Valley MOCA, The Watermill Center, Mattatuck Museum, Albany Institute, The National Museum of Women In The Arts, CICA Museum, Smack Mellon, San Luis Obispo Museum of Art, French Embassy Cultural Center, Art Basel Miami, SCOPE Art Fair, Norwood Arts Club, Cannes Film Festival, and SPRING/BREAK Art Show to name a few.
In 2014, her public art sculpture, "The Egg of Light," was exhibited at Rockefeller Center as part of the Fabergé Big Egg Hunt. Cesarine's work has been auctioned in a number of celebrated art benefits including at Sotheby's New York, ARTWALK NY supporting the Coalition for the Homeless, Gabrielle's Angel Foundation for Cancer Research, and UPRISE supporting the ERA Coalition, among many others. Her artwork and exhibitions have been featured internationally in numerous publications including The New York Times, American Vogue, Vogue Italia, Forbes, Newsweek, W Magazine, Harper's Bazaar, i-D, Dazed, New York Magazine, and The Huffington Post. Empowering feminist themes are often a point of departure for her artwork, which is influenced by autobiographical content, her Latinx heritage, and women's history. Aside from her work as an artist, she is the founder and editor-in-chief of The Untitled Magazine, founder of Art4Equality, an initiative supporting equality in the arts, as well as founder of The Untitled Space art gallery. Cesarine explores her creative vision as an artist vis-à-vis traditional and new mediums, and finds strength in examining new ideas in contemporary culture. She currently lives and works in Tribeca, NY.
Learn more about the artists on our website. 
---
Share this artwork
---