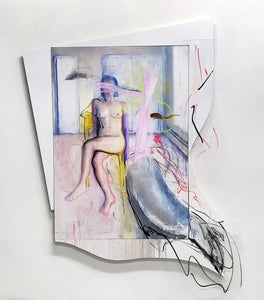 Elena Chestnykh "You Don't Know Her"
Regular price
$6,000.00
$0.00
Unit price
per
Elena Chestnykh "You Don't Know Her" 2020

Painting: Oil on Canvas, Foam board, Acrylic Plastic Frame
Dimensions: Central Painting is 54 in x 38 in, Full size is varied, largest measurement is 68 in.
Unique
Signed on Verso, includes a certificate of authenticity.
Elena Chestnykh was born in Novosibirsk, Russia and currently resides and works in New York. She has exhibited both nationally and internationally, including with the Museum of Contemporary Art Erarta (MCAE) in Saint-Petersburg, the Art Center WINZAVOD in Moscow, the State Museum of Novosibirsk, Tomsk, and Kemerovo in Russia, and Nord Art 2010, Rendsburg, Germany.  In 2013, "Urban Reflections" traveled to New York Erarta Gallery and became Chestnykh's first solo exhibition in the United States. Chestnykh has also presented works in New York at SFA projects Gallery, The Royal Gallery, R&Dstudio BUSHWOOD, Trenton Artwork Center, NJ, and in a selected group exhibition at the School of Visual Art Gallery in Chelsea, NYC, as well as in the "INNOVATE" exhibition at The Untitled Space, fall 2021.
Learn more about her artwork and exhibitions on our website.
---
Share this artwork
---