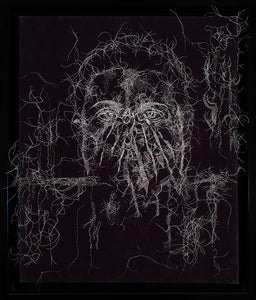 Rosemary Meza-DesPlas "Yo También"
Regular price
$1,750.00
$0.00
Unit price
per
Rosemary Meza-DesPlas  "Yo También" 2018
Fiber Art: hand-sewn gray human hair on black twill fabric
Dimensions: 22in x 18in; framed 25in x 21in x 2in
Unique
Signed on Verso, includes Certificate of Authenticity


Rosemary Meza-DesPlas was born and raised in Garland, Texas, a manufacturing-based suburb of Dallas. Her parents' heritage is rooted south of the US border: her mother was born in Allende, which is located in Coahuila, Mexico. Her father, born in Santa Maria, Texas, grew up in Tampico, situated within Tamaulipas, Mexico. The tenacity of her eight aunts in the face of personal tragedies and adversities was an early inspiration; their narratives contributed to her embrace of feminist ideology. The cornerstone of her artwork is the female experience within a patriarchal society. Meza-DesPlas explores the concept of anger as a tool for change by juxtaposing found imagery from social media, art history and mass media. She is interested in how social movements, Women's Marches, and #MeToo harnessed anger in order to forefront an array of gender-based burdens. Meza-DesPlas currently lives in Farmington, New Mexico.
Learn more about her artwork and exhibitions on our website.
This artwork is currently featured in The Untitled Space group show " UNRAVELED: Confronting The Fabric Of Fiber Art" On View at The Untitled Space from April 17 - May 28th, 2021. For more info visit: https://untitled-space.com/
---
Share this artwork
---