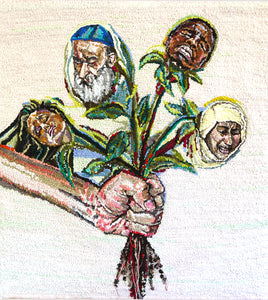 Linda Friedman Schmidt "Weeding"
Regular price
$10,500.00
$0.00
Unit price
per
Linda Friedman Schmidt "Weeding" 2016
Textile Art, Discarded Clothing
Dimensions 26 x 26in
Unique
Signed on verso, includes certificate of authenticity

Linda Friedman Schmidt is a self-taught artist known for her emotional narrative portraits created from discarded clothing. She was born stateless in a German displaced persons camp, the first child of Holocaust survivors. Her family history has fueled a passion and advocacy for reform and for making the world a better place for all, not just for some. In artwork that fuses personal history with current issues, she shines a light on religious intolerance, racism, ethnic cleansing, violence and the pain and suffering caused by displacement and war. She is unafraid to tell the unvarnished truth, confront her family's dark history, and address taboo and controversial issues. Recent exhibitions include the ONE YEAR OF RESISTANCE, SHE INSPIRES and UPRISE/ANGRY WOMEN Exhibitions at The Untitled Space and as well as SPRING/BREAK Art Show.
Read more about her artwork and exhibitions on our website. 

---
Share this artwork
---