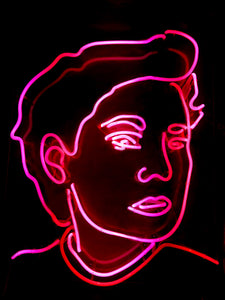 Indira Cesarine "I Believe in Free Love (Victoria Woodhull)"
Regular price
$25,000.00
$0.00
Unit price
per
Indira Cesarine "I Believe in Free Love (Victoria Woodhull)" 2017
Glass, Neon Sculpture mounted on plexiglass with Electrical Transformer
Dimensions 35 x 25 x 4in 
Unique
Signed on verso, includes a certificate of authenticity.
Requires shipping quote, contact us for more info.
Installation available in NYC area. 
Indira Cesarine is a multidisciplinary artist who works with photography, video, painting, printmaking, and sculpture. Born in Sioux City, Iowa, Cesarine discovered her passion for art at a young age and pursued an education from the age of 13 studying abroad in Paris, France, in New York at Parson's School of Design, as well as at Choate Rosemary Hall in Connecticut. Cesarine had her first solo show at the age of sixteen at Paul Mellon Arts Center. She began working as a photographer from the age of seventeen, shooting for top modeling agencies Elite, Ford, and IMG Models while she finished her degree. Upon graduation from Columbia University, where she completed a triple major in Art History, French, and Women's Studies, she continued her career in London where she was awarded photography commissions by Vogue, GQ, Harper's Bazaar, and many other international titles while still in her early twenties. Her work as an artist has been featured internationally at many art galleries, museums, and art fairs, including The Metropolitan Museum of Art, Hudson Valley MOCA, The Watermill Center, Mattatuck Museum, Albany Institute, CICA Museum, Smack Mellon, San Luis Obispo Museum of Art, French Embassy Cultural Center, Art Basel Miami, SCOPE Art Fair, Norwood Arts Club, Cannes Film Festival, and SPRING/BREAK Art Show to name a few.
In 2014, her first public art sculpture, "The Egg of Light," was exhibited at Rockefeller Center as part of the Fabergé Big Egg Hunt. Cesarine's artwork has been auctioned in a number of celebrated fundraising benefits including Sotheby's New York "Take Home A Nude", ARTWALK NY benefiting the Coalition for the Homeless, and Gabrielle's Angel Foundation for Cancer Research, among many others. Her artwork and exhibitions have been featured internationally in numerous publications including The New York Times, American Vogue, Vogue Italia, Forbes, Newsweek, W Magazine, Harper's Bazaar, i-D, Dazed, New York Magazine, and The Huffington Post. Aside from her work as an artist, she is the founder and editor-in-chief of The Untitled Magazine, founder of Art4Equality, an initiative supporting equality in the arts, as well as founder of The Untitled Space art gallery. Cesarine explores her creative vision as an artist vis-à-vis traditional and new mediums and finds strength in examining new ideas in contemporary culture. Empowering feminist themes are often a point of departure for her artwork, which is influenced by autobiographical content, her Latinx heritage, and women's history. She currently lives and works in Tribeca, New York. 
Read more about her artwork and exhibitions on our website.
---
Share this artwork
---