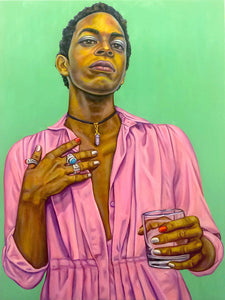 Grace Graupe-Pillard "Martize"
Regular price
$15,000.00
$0.00
Unit price
per
Grace Graupe-Pillard "Martize" 2017
Oil and Alkyd on Wood Panel
Dimensions 48 x 36 x 2 in
Unique
Signed on Verso, includes certificate of authenticity.
Grace Graupe-Pillard has concentrated on portraiture since her early charcoal drawings which she exhibited at The Drawing Center, NYC in 1981. Her work, which has been exhibited at notable institutions such as MOMA PS1 and galleries including Cheim & Read Gallery (NY) and Carl Hammer Gallery (Chicago), has evolved from over the years from pastels to large-scale oil paintings and installations of people who she describes as "having not been integrated into mainstream society." Her more recent paintings, inspired by selfies and iPhone photographs, attempt to convey the vitality and diversity of 21st century contemporary culture while capturing the ineffable moments in our lives. "The sensuality and radiant beauty of youth and ethnic diversity are depicted in my choice of subjects, as well as the ravages of time which are imprinted on our being. All stages of life are filled with humanity that both elevates and dissipates the spirit." 

Her work has been written about in The NY Times, Art News, The Village Voice, The Star-Ledger, Newsday, Flash Art, Artforum, Art in America, Arts, and Tema Celeste. 
Grace Graupe-Pillard's artwork was featured in duo show, EXPOSED at The Untitled Space in October 2019, and she has previously been featured in a number of the gallery's group shows including IRL: Investigating Reality, ONE YEAR OF RESISTANCE, and SELF REFLECTION.
Learn more about her artwork and exhibitions on our website.

---
Share this artwork
---