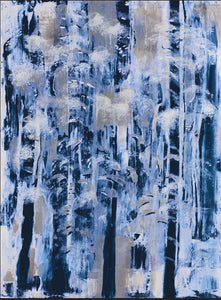 Camilla Webster "Evening Trees Midnight and Silver"
Regular price
$12,000.00
$0.00
Unit price
per
Camilla Webster "Evening Trees Midnight and Silver " 2022 
Painting: Acrylic on Canvas
Dimensions 40 in x 30 in
Unique
Signed, Includes Certificate of Authenticity
Artist Camilla Webster's museum-collected paintings have focused on the essence of the human spirit, connection, healing, and the societal issues in our midst through abstracted landscapes and seascapes. It is the light and color of South Florida that draws Camilla back to Palm Beach, where her studio sits just one block down from The Norton Museum of Art. The unique creative space draws hundreds of visitors a year seeking a unique experience with the artist. Fine artists come to their careers through many paths, but one thing Camilla Webster shares with them all is her ability to draw on her life experience to create her beautiful and intense canvases. She credits her years as an accomplished and award-winning TV & print journalist covering the globe as the life-experience build up to reaching her artistic self.

Born in New York to British and American parents, The Webster family has its roots in earliest colonial New England, and she has taken much inspiration from that region. Since she has made Palm Beach her family home, Webster has leaned into the spectacular lighting, sunsets and even the palm trees for her inspiration of her new art-brand Love From Palm Beach. This lifestyle brand is celebrating the timeless elegance of Palm Beach Island through art and experiences created and curated by the artist. From bespoke champagne bottles and wearable art to luxury corporate experiences – she shares the magic of the island with love, from Palm Beach. In recent years, Webster's fine art has been selected for Hudson Yards by Norges and by The Coral Springs Museum of Art and is currently on exhibit at The Southampton Arts Center in New York, The Sagamore Hotel, and The Ritz Carlton South Beach. She was recently recognized in October, 2022 by the Mayor of Miami and the Miami Art Commission. Over 50 paintings are in important institutional and private collections around the world.

Webster is a Ted Speaker. Her book on art inspired by Palm Beach was the No. 1 best seller in 2021. Webster has studied at The Slade School of Fine Art in London, the Art Students League in New York and has her master's degree in Modern History and History of Art from the University of St Andrews, Scotland. She is also a community activist supporting the Palm Beach Symphony, The Salvation Army of Palm Beach, and the Norton Museum of Art as a member of the collection council of emerging artist.
---
Share this artwork
---