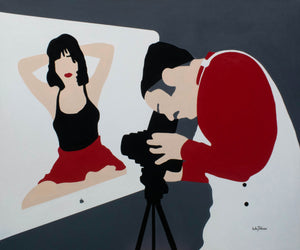 Lola Jiblazee "Ricky and Suli in NYC"
Regular price
$7,200.00
$0.00
Unit price
per
Lola Jiblazee "Ricky and Suli in NYC" 2020
Painting, Acrylic on Canvas
Dimensions 
50 x 60 x 1.5 in

Unique

Signed on Recto, includes certificate of authenticity.
Lola Jiblazee is a New York based artist from Tbilisi, Georgia. She primarily works with acrylic paint and digital forms to create her art. Influenced in her formative years by strong female role models during Georgia's Civil War, Lola developed a passion to echo the empowerment of women. Her career in the art scenes of Brooklyn and Manhattan's Lower East Side reflects her commitment to continue focusing on the issues that represent her. Lola has participated in numerous international exhibitions including "CENTENNIAL: She" curated by GCCA and the New York State Museum, Patricia Field's ArtFashion, ONE YEAR OF RESISTANCE curated by Indira Cesarine at The Untitled Space, Frida Kahlo House at Satellite Art Fair powered by Frida Kahlo Corporation & Mexico's National Institute of Anthropology & History, and Galerie P38 during Paris Art Week 2019. In 2019 she debuted as a performance artist for "Not Buried but Waiting" a film by Marguerite Van Cook for Museum of Contemporary Art, Taipei, Taiwan.
In her latest series "True World Story" by Lola Jiblazee explores hope, love, and courage during the COVID-19 pandemic. Isolated during the lockdown, Lola turned to social media and has asked her followers to share their positive quarantine stories. Those stories helped Lola to fight off her own anxieties. Lola grew up in the Republic of Georgia in the nineties during a Civil War. She had been under curfew and isolated, went without water and electricity, and was separated from loved ones for months. Those experiences greatly affected how she viewed the world. She struggled to overcome the PTSD that ensued but the experiences also made her stronger. Through her artwork, she attempts to convey how others can find joy in simple things which can help overcome tough times and remind people how beautiful life can be.

Ricky and Suli, New York, New York: "Ricky and I started a project shooting portraits of each other with film cameras. We began before NYC got locked down, and when the quarantine started, we had to stop shooting. A week or two later, Ricky and I were talking about how everything was going online, and that maybe we should go online with our photos also. Taking film photos, just like digital screen shots is a fascinating idea to me, and we've continued to shoot 2-3 times a week during the lockdown. COVID-19 revealed a lie; I thought we're living in an ordered world, where everything works in some kind of order like the seasons. And then I realized the world is chaotic. I'm glad to do this project with Ricky during this period; it's a sequenced process that seeks for an order in the chaos."- Suli


Learn more about 
Lola Jiblazee's
 artwork and exhibitions on our 
website
.
---
Share this artwork
---