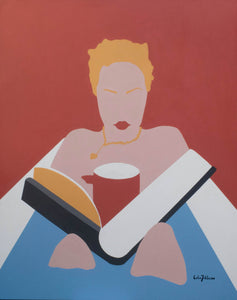 Lola Jiblazee "Jordan in Brooklyn"
Regular price
$7,200.00
$0.00
Unit price
per
Lola Jiblazee "Jordan in Brooklyn" 2020
Painting, Acrylic on Canvas
Dimensions 60 x 48 x 1.5in
Unique

Signed on Recto, includes certificate of authenticity.
Lola Jiblazee is a New York based artist from Tbilisi, Georgia. She primarily works with acrylic paint and digital forms to create her art. Influenced in her formative years by strong female role models during Georgia's Civil War, Lola developed a passion to echo the empowerment of women. Her career in the art scenes of Brooklyn and Manhattan's Lower East Side reflects her commitment to continue focusing on the issues that represent her. Lola has participated in numerous international exhibitions including "CENTENNIAL: She" curated by GCCA and the New York State Museum, Patricia Field's ArtFashion, ONE YEAR OF RESISTANCE curated by Indira Cesarine at The Untitled Space, Frida Kahlo House at Satellite Art Fair powered by Frida Kahlo Corporation & Mexico's National Institute of Anthropology & History, and Galerie P38 during Paris Art Week 2019. In 2019 she debuted as a performance artist for "Not Buried but Waiting" a film by Marguerite Van Cook for Museum of Contemporary Art, Taipei, Taiwan.
In her latest series "True World Story" Lola Jiblazee explores hope, love, and courage during the COVID-19 pandemic. Isolated during the lockdown, Lola turned to social media and has asked her followers to share their positive quarantine stories. Those stories helped Lola to fight off her own anxieties. Lola grew up in the Republic of Georgia in the nineties during a Civil War. She had been under curfew and isolated, went without water and electricity, and was separated from loved ones for months. Those experiences greatly affected how she viewed the world. She struggled to overcome the PTSD that ensued but the experiences also made her stronger. Through her artwork, she attempts to convey how others can find joy in simple things which can help overcome tough times and remind people how beautiful life can be.

Jordan, Brooklyn, New York: "Because I'm a wildly shy introvert, with the wildly useful skill of pretending to be an extrovert, isolation isn't really that difficult. But, what IS proving to be difficult, are the incessant unknowns- that every morning has this strange dystopian quality to it, this slippery unease. This solitude requires of us a harkening back to some kind of simplicity; what feels safe, when there isn't much safety? I had read a book where the author spoke of how the Greek root of the word "crisis" means to sift. When I'm lost in a book, the world falls into the peripheral just enough; my mental landscape starts shift. I can see new colors, I can appreciate the old colors. Perspective. Connection. Sifting. Right now, the whole world is in the process of sifting; what's essential? What do we take for granted? How do we protect each other? We're all taking part in a complicated, and painful, and hopefully, redemptive story. And this chapter will indeed, end. But in the meantime, I'll be in the tub reading..." - Jordan


Learn more about 
Lola Jiblazee's
 artwork and exhibitions on our 
website
.
---
Share this artwork
---