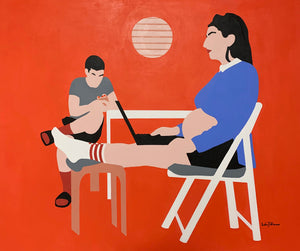 Lola Jiblazee "Piqria and Nikusha in Tokyo"
Regular price
$8,000.00
$0.00
Unit price
per
Lola Jiblazee "Piqria and Nikusha in Tokyo" 2020
Painting, Acrylic on Canvas
Dimensions 50 x 60 x 1.5in
Unique

Signed on Recto, includes certificate of authenticity.
Lola Jiblazee is a New York based artist from Tbilisi, Georgia. She primarily works with acrylic paint and digital forms to create her art. Influenced in her formative years by strong female role models during Georgia's Civil War, Lola developed a passion to echo the empowerment of women. Her career in the art scenes of Brooklyn and Manhattan's Lower East Side reflects her commitment to continue focusing on the issues that represent her. Lola has participated in numerous international exhibitions including "CENTENNIAL: She" curated by GCCA and the New York State Museum, Patricia Field's ArtFashion, ONE YEAR OF RESISTANCE curated by Indira Cesarine at The Untitled Space, Frida Kahlo House at Satellite Art Fair powered by Frida Kahlo Corporation & Mexico's National Institute of Anthropology & History, and Galerie P38 during Paris Art Week 2019. In 2019 she debuted as a performance artist for "Not Buried but Waiting" a film by Marguerite Van Cook for Museum of Contemporary Art, Taipei, Taiwan.
In her latest series "True World Story" Lola Jiblazee explores hope, love, and courage during the COVID-19 pandemic. Isolated during the lockdown, Lola turned to social media and has asked her followers to share their positive quarantine stories. Those stories helped Lola to fight off her own anxieties. Lola grew up in the Republic of Georgia in the nineties during a Civil War. She had been under curfew and isolated, went without water and electricity, and was separated from loved ones for months. Those experiences greatly affected how she viewed the world. She struggled to overcome the PTSD that ensued but the experiences also made her stronger. Through her artwork, she attempts to convey how others can find joy in simple things which can help overcome tough times and remind people how beautiful life can be.

Piqria and Nikusha, Tokyo, Japan: "After I realized that I might give birth in Tokyo we found out that Japanese childbirth culture is very different from ours. First of all, Japanese men usually don't attend childbirth and most of the hospitals don't encourage fathers to participate in labors, which makes me bit anxious since I do have some fears of giving birth not being "home", speaking not very good Japanese and feeling bit lonely, so Nikusha's support and participation is really important for me. Second sensitive issue is that most of the Japanese hospitals do not use epidurals, which I was looking forward to use while giving birth n Georgia. I still hope we can negotiate both issues with the local hospital but if not I guess I have to start facing my fears on childbirth and working on them. Despite of cultural differences we both believe that our life is interesting because of unexpected adventures and we do hope that when our daughter will grow up she's going to find the story of her birth exciting and feel bit special being born in Japan" -Piqria


Learn more about 
Lola Jiblazee's
 artwork and exhibitions on our 
website
.
---
Share this artwork
---